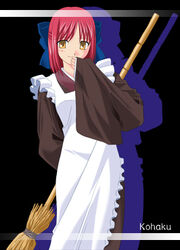 Ciel (better known as Raine, from her original username, Professor Raine) is a Tales forum user best known for being a japanophile and consuming reasonable amounts of soda, but taking 4 days to travel to the dalai lama's fridge on top of the mythical mountain and returning. She then leaves again in a mere 15 minutes for more.
Raine seems to obsess over anime such as Suzumiya Haruhi no Yūutsu, Fate/Stay Night and Lucky Star
She has an interest in stalking various forumers including Lord Fawkes Garde and Vivi Owns.
Don't get her mad! She keeps some sort of a revenge journal where she records the names of people whose computers she needs to hack. Her most recent addition to this journal is rumored to be Odin M Yggdrasil, who actually encouraged her to try it during a skype chat, on the grounds that he believed it could not be done.
Raine's favorite fighting game is Melty Blood ReACT.
Raine is rumored to be an old man that has a shota fetish.
Raine has been known to imagine your innards bursting through your skull and laugh at the thought.
Ciel's lifelong dream includes beating Skythe at Pokémon. However, she does wish to meet various Tales members at an anime convention.
Music Tastes
Edit
Ciel enjoys several types of music, ranging from Shirou Sagisu's Evangelion background music, to GoGo's "Ukifune" and "Umashikamono", and even to heavier works by MAXIMUM THE HORMONE. Here is a list of some of her favorites:
ALI PROJECT
BEAT CRUSADERS
BUMP OF CHICKEN
B'z
Def Tech
Dragon Ash
GO!GO! 7188
HOTEI vs RIP SLYME ("BATTLE FUNKASTIC")
Janne Da Arc
Junglin' Junks
ORANGE RANGE
ORESKABAND
MAXIMUM THE HORMONE
Minori Chihara
Monkey Majik
nobodyknows+
SEAMO
Shirou Sagisu
Siam Shade
STANCE PUNKS
TAM
UVERworld
YUI
Yuko Goto
Current Obsessions
Edit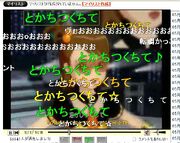 Battle Royale (Novel and film adaptation only)
Lucky Star
"Let's Go! Onmyouji"
"Marisa Stole the Precious Thing"
"nyoro~n"
"Okkusenman"
Suzumiya Haruhi no Yūutsu
"tokachi tsukuchite"
"Wa wa wa wasuremono..."
This article is a stub on a user. You can help the Namco Tales forums wiki by expanding it.